"They asked me to design a poster for a double header they had at the Civic Hotel in Pitt Street Sydney in 1978."
From 1978 to 1988, John Foy designed posters for cult bands like the Beasts of Bourbon, the Riptides and Lubricated Goat, and for international artists like Deborah Harry, Lou Reed and UK Squeeze.
Foy took a more artistic approach, including graphics and photos on his posters drawing inspiration from pop culture, film and television.
As he recalls, it wasn't really the done thing. "The bands didn't have artwork on their posters. The only people using artwork on their posters were political posters, especially for Indigenous and women's politics," he said.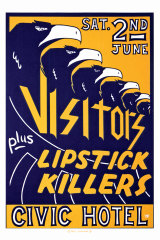 "In the 70s and 80s, most band posters were very generic, with just the name of the band, the place and the date."
"When I was designing posters, it was all I did that week or saw on TV. I was even inspired by Laminex designs from my local cafe.
For most of the works, there were only 100 posters printed, and some of these posters now cost collectors thousands of dollars.
Posters designed by John Foy have a distinctive YOF triangle, which was spelled FOY backwards. If John also printed the poster, Skull Printworks has been credited at the bottom in tiny font as a nod to his surroundings at Phantom.
Screen-printed by hand, usually on his Paddington balcony, Foy's posters featured images adapted from his favorite cult TV shows, such as The Avengers and dangerous man.
Even though he's designed hundreds of posters, Foy thinks there's one that best represents his work – Tex's Texas Chainsaw Massacre for the Beasts of Bourbon.
Loading
"I recently posted a post on social media about how every poster designer inevitably has a poster chosen by the public to define that artist.
"For Rick Griffin, it was the flying eyeball he designed for Jimi Hendrix, and for me, it seems the general public chose the Texas Chainsaw Massacre poster, which I'm very happy with."
After traveling the world and getting married in Cuba, the global citizen is back in Australia to launch an international reissue of his book Snaps Crack Pop!. It was first published in 2018 as a collection of his work and featured over 100 of his posters.
"The first issue was only 500 books, which I did mostly to shore up my copyright," Foy said.
"The new international edition has new posters, and we've shortened the page count, changed the timeline and ordered a larger print run, which means we can lower the price."
Loading
While compiling the second book, John rediscovered engravings that had disappeared over the years. "I once printed a poster for the Hells Angels and complained to Spencer P. Jones that I couldn't remember who I gave the poster to to keep it; he admitted he rolled it up in his closet at home," Foy said.
"It was great to see those old posters again after all these years. I also hope that the new book will also inspire a new generation of graphic designers.
Snap Crack Pop!, the international edition, is now available from skullprintworks.
A cultural guide to go out and love your city. Sign up for our Culture Fix newsletter here.